If you love pizza (I know you do, shut up) then you have to try this Naan Bread Pizza! I've made homemade dough a bunch of times in the past, and while it's often just fine, it's downside is that it takes forever! Naan bread though, it's already cooked and waiting for you at the store.
To give you an idea of how good this naan bread pizza turns out, I've only ordered pizza in ONCE since I started doing this a few months ago. One of the great benefits (for me personally) is the size of this pizza is constrained to the size of the naan bread. Seriously, thats a benefit. If there's pizza in front of me, I eat it. If there's a large pizza in front of me… I find a way to eat it. If there's a naan bread sized pizza in front of me, it's small(ish), I eat it, and I'm happy because I had pizza! See how that worked out? Win/win!
Ok start by preheating your oven to 400 degrees, and then wiping oil around the inside of a cast iron pan.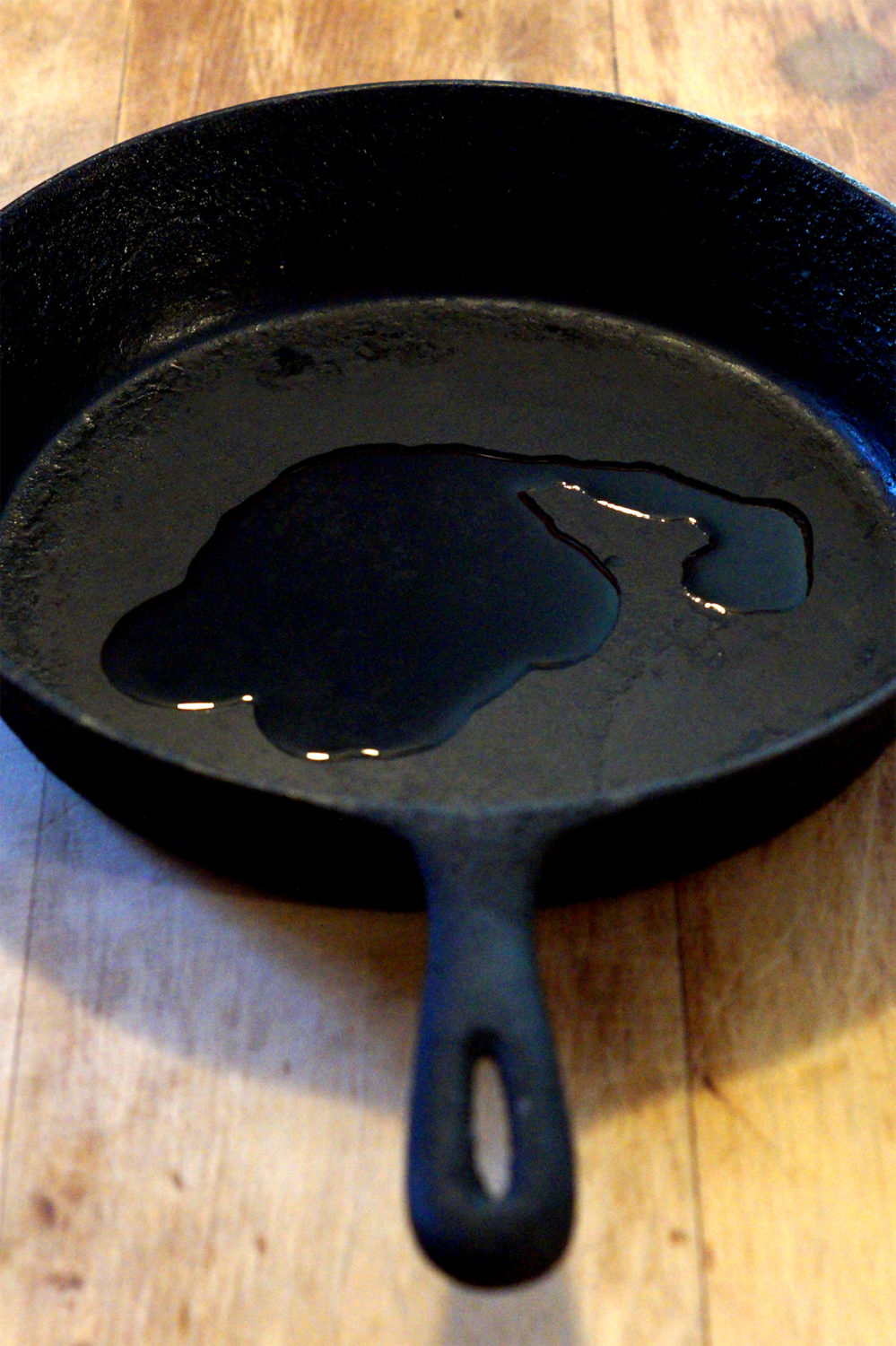 Next, get all of your chosen ingredients ready to assemble. Don't forget, you can use this tomato sauce recipe which I think works great for this naan bread pizza. Use whatever toppings you like, it's pizza after all. Yes, even pineapple. Do you want to know why pineapple is ok? It's because this isn't North Korea and basic choices don't have to scare you. Do what you want you adventurous bastard! I chose what you see below simply because that's what I had to use, and thats another reason this pizza is such a great idea.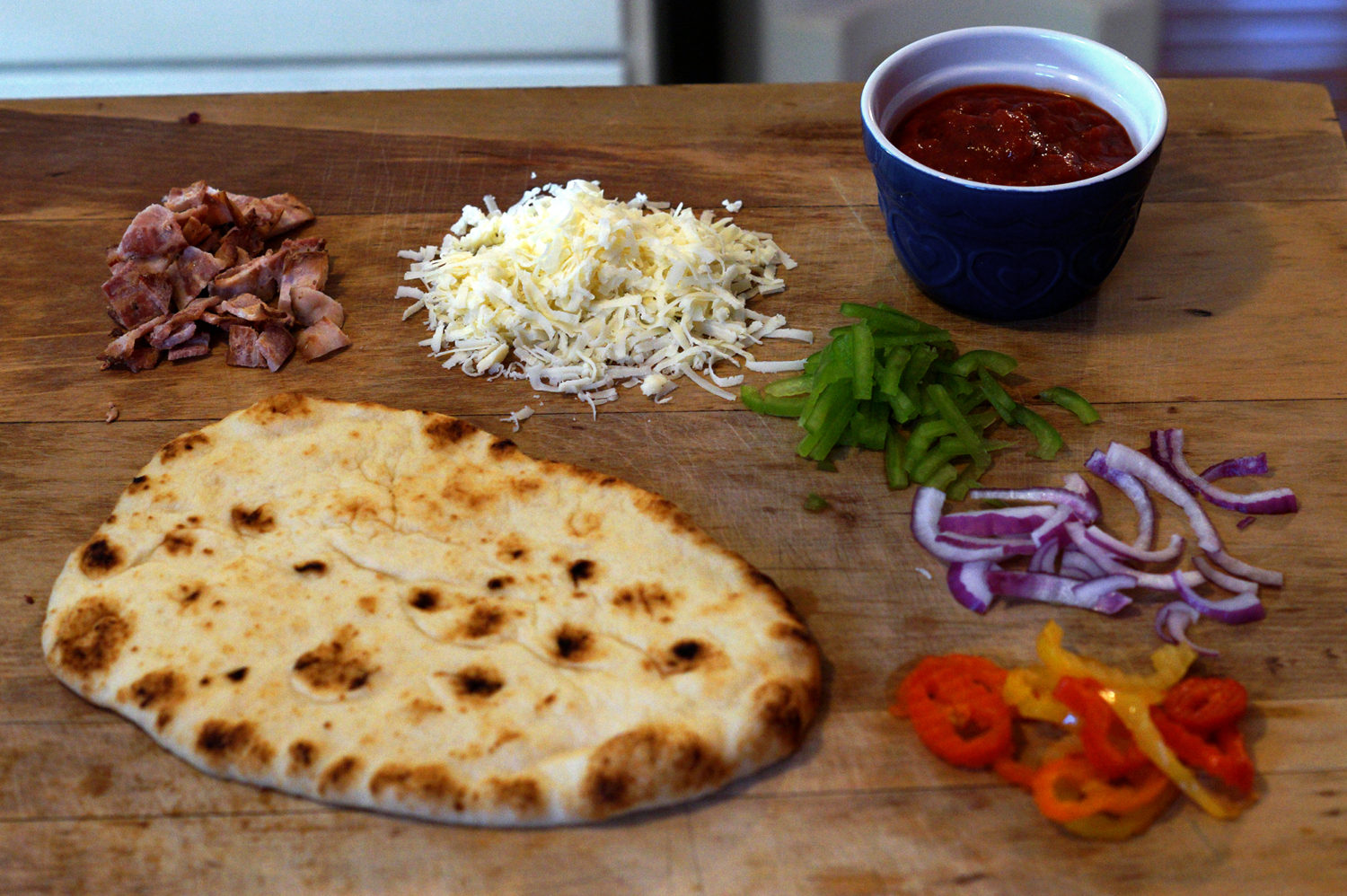 Next step is to assemble! Start by using a spoon to spread the sauce around in as thick of a layer as you like. Don't go too crazy though or it may just run all over. Use your judgement. You'll be fine. After the sauce is on, I like to sprinkle about half of the cheese on before the rest of the toppings. Then once they're on, sprinkle on the other half of the cheese. Once you've got it all put together, gently set the naan bread pizza inside the cast iron pan.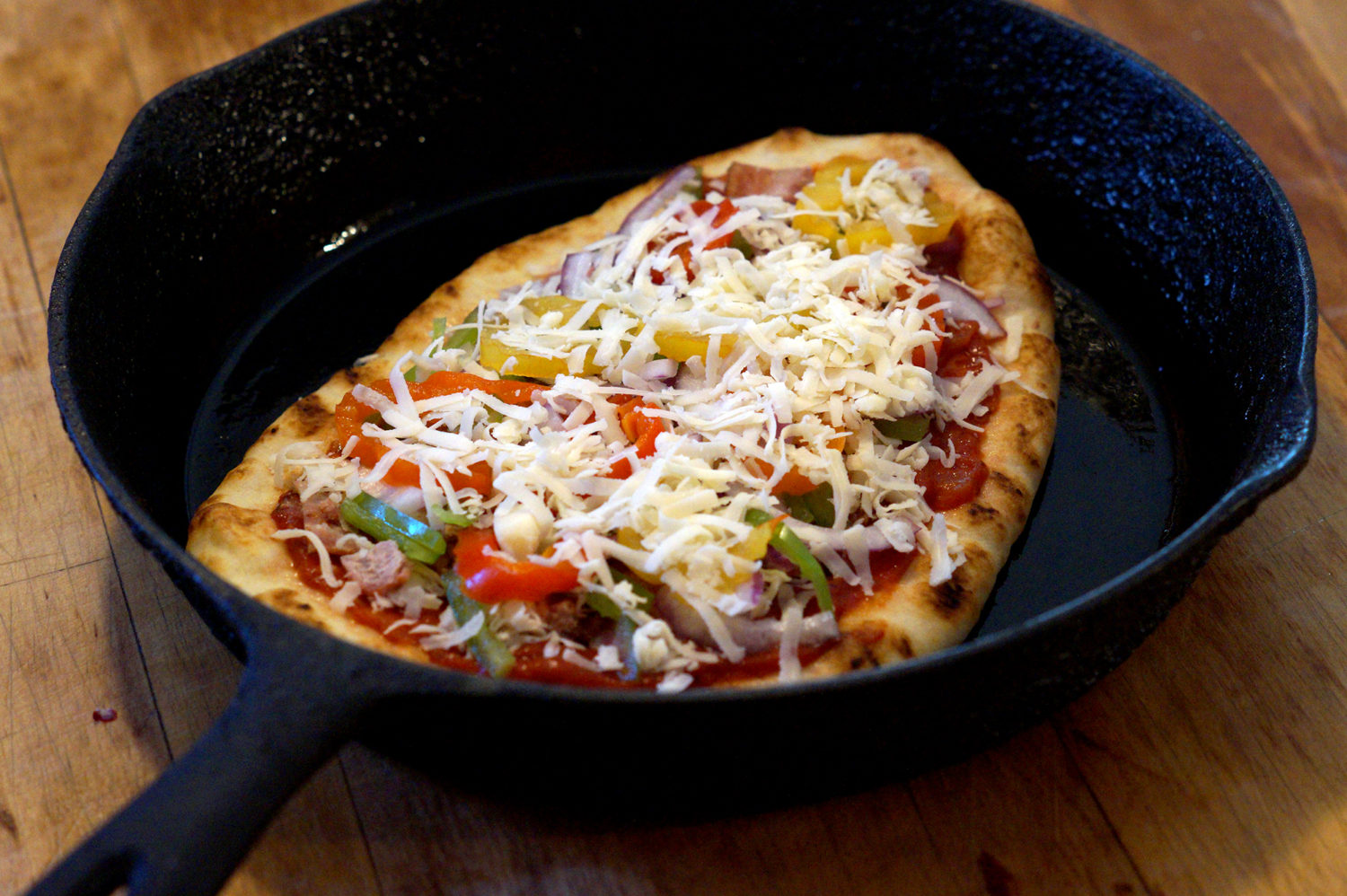 Then put it in the 400 degree oven for about 10 minutes. Keep an eye on it after about 8 minutes though as it can burn quickly!
Once the cheese starts to brown just a bit and the naan bread looks like it's done the same, rescue it from damnation and set it on a cutting board for a few minutes to let it settle a bit. Then, cut it up and enjoy!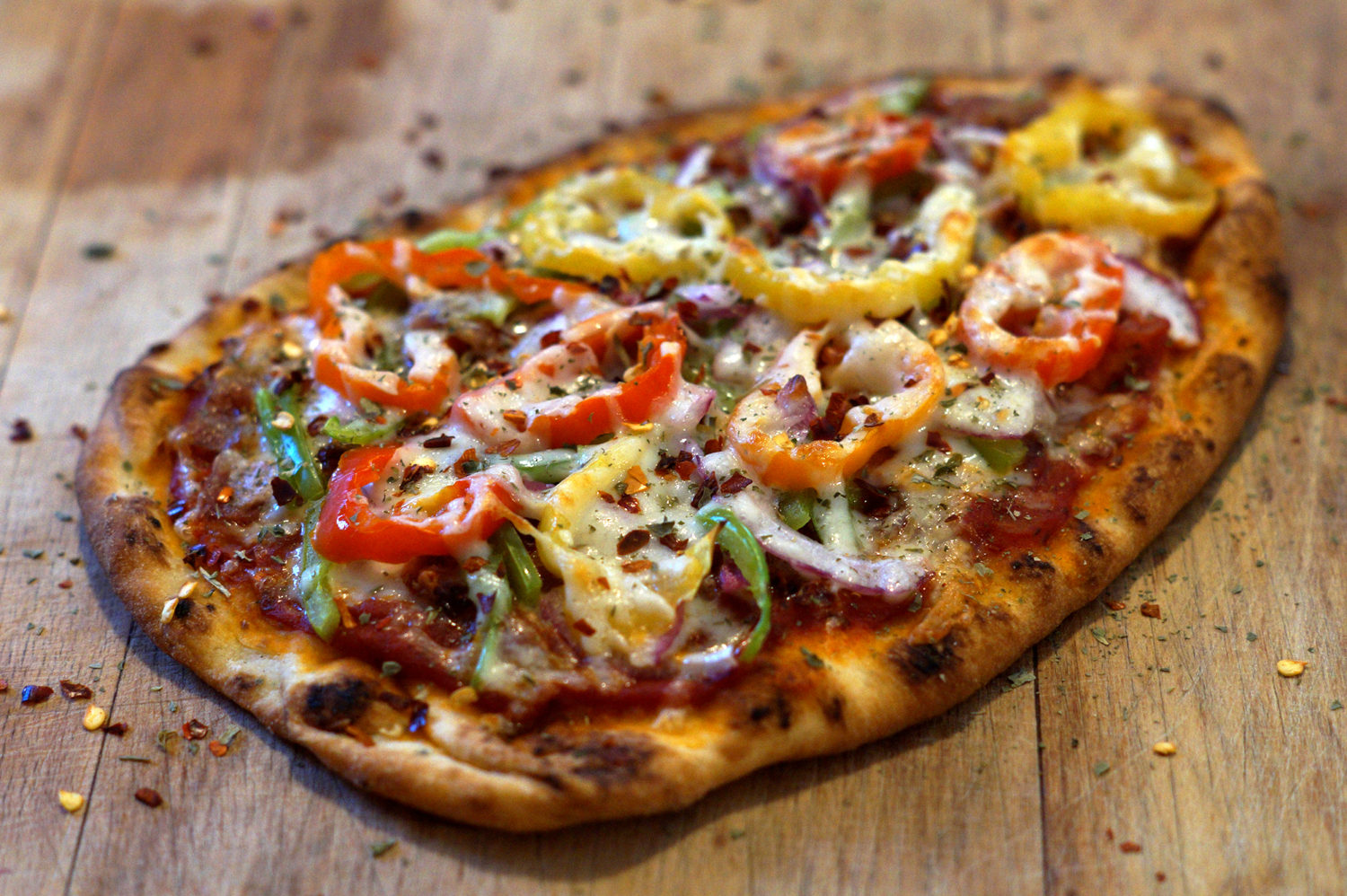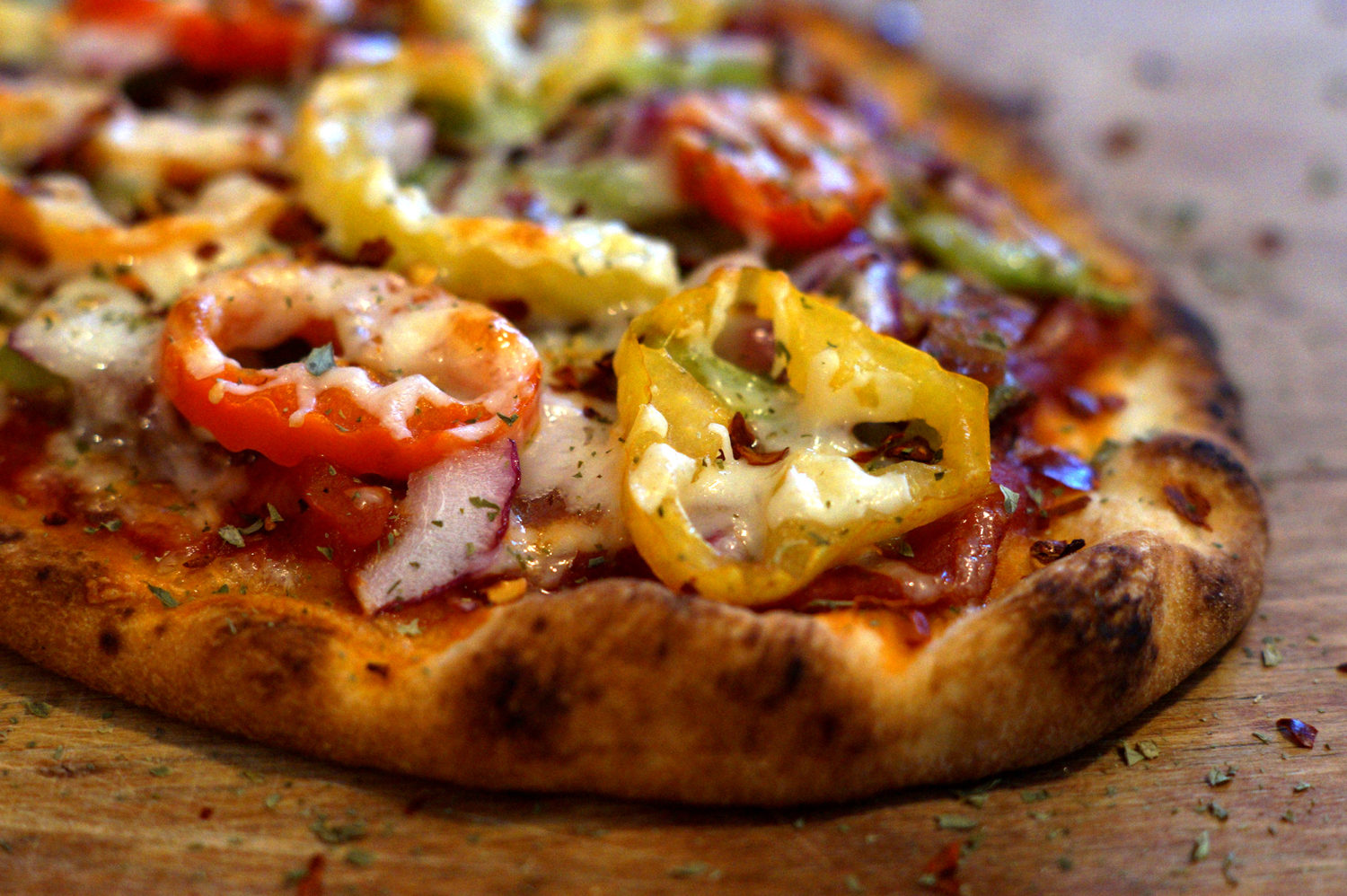 Naan Bread Pizza
Ingredients
Olive oil
1 piece of naan bread
3-4 tbsp of tomato sauce
Cheese of your choice!
Pizza toppings of your choice!
Directions
Preheat oven to 400
Wipe oil around the inside of a cast iron pan
Spread tomato sauce on naan bread and then sprinkle with half of your choice of cheese
Add all of the rest of your toppings, and then the other half of the remaining cheese
Gently set pizza inside the cast iron pan
Place in oven and cook for 8-12 minutes, or until cheese and bread start to brown
Once done, remove from oven and let sit for a few minutes
Cut up and enjoy!