Shawarma is one of my favourite foods on the planet. I'll never forget my first one. It was after a night out in Toronto and my brother suggested we stop at some small place to get one because "they're the best". I didn't even know what was in it at that point. I was kinda nervous that I'd not like it, just because the name "shawarma" offers zero hints as to what secrets may live within. First bite… ok… I can do this. Second bite… I hit the hot sauce, and my god was it hot. Hot enough to stop, though… it was not. From that moment on I had a new favourite food. Yes, some are better than others, but I don't think I've ever had a bad one.
But when I started keto I had to come to terms with the fact that I couldn't have it anymore. How is it possible to live such a life, you ask? Well, it's not. It's not possible at all. So, rather than live this life without shawarma, and knowing I really don't trust myself to order a shawarma salad instead of the pita, I had to come up with a solution.
Want to know a secret…? Bulk Barn sells shawarma spice. Ya…they do. It's in the area with all the other spices, and it's amazing.
A shawarma always feels like it will be a bit of an ordeal to make at home, but it's usually stuff you already have on hand, and if you're not overly picky about "authenticness", this recipe will do the job just fine. Most of the time I'll even make double or triple the amount of the garlic mayo, just so I have it on hand for a couple days. Oh, one more secret… most of the time when I make it, I'm using one of those precooked whole chickens from Costco, or Metro, or Real Canadian Superstore… or Walmart even. Just hack of a breast and chop it up. Done. Just like that.
One last thing… if you don't care about carbs, by all means, throw this food pile into a pita and live your damn life for a change!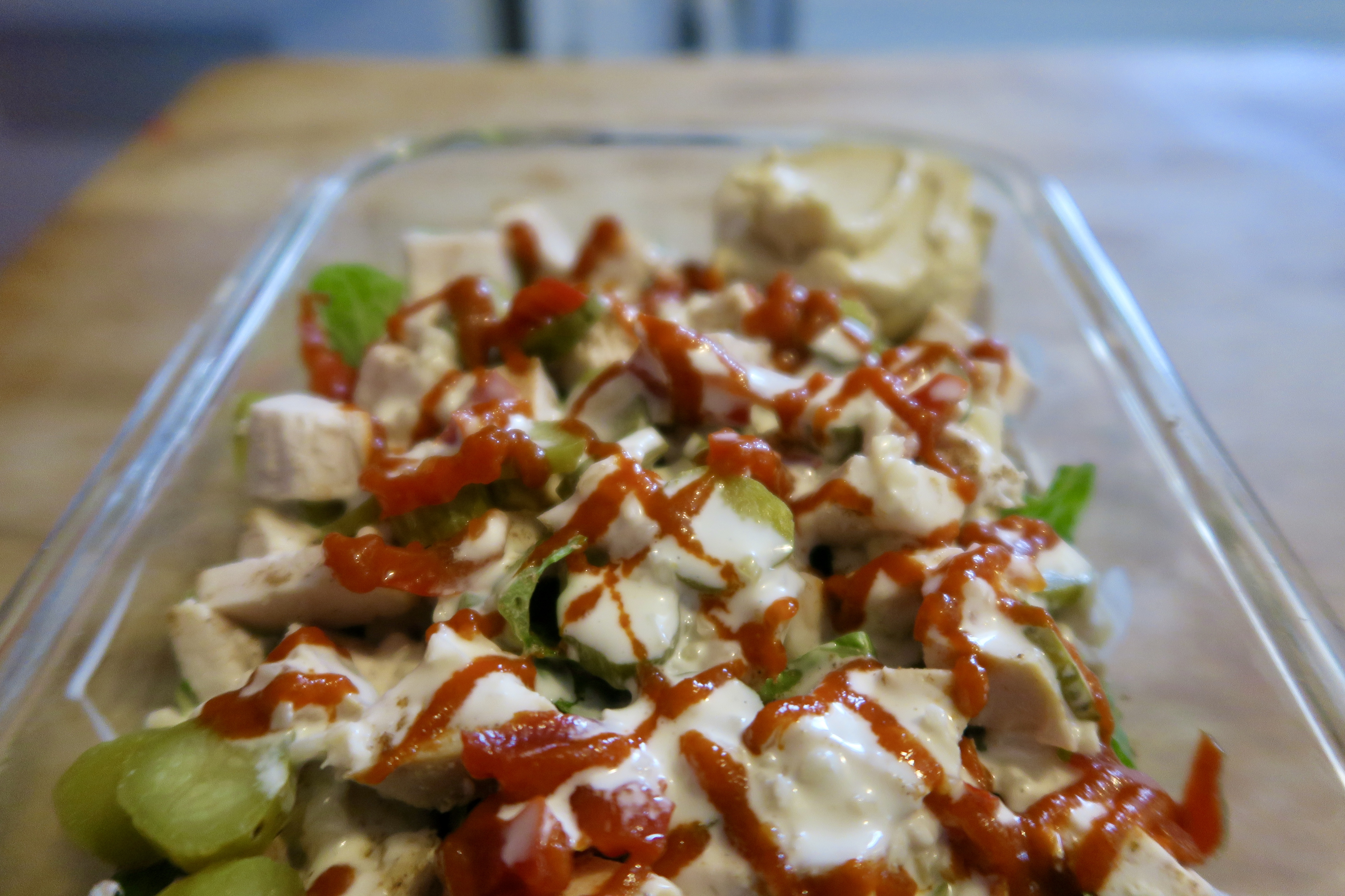 Makeshift Shawarma Salad
Ingredients
Romaine Lettuce
Chicken
Shawarma Spice (from Bulk Barn)
Pickles
Mayonnaise
Minced Garlic
Lemon Juice
Water
Hot Sauce
Italian Dressing
Hummus
Directions
Chop up the lettuce. I don't need to explain this step.
Slice up a pickle or two. I prefer to use Dill Pickles, but use whatever you like.
In a separate bowl, mix a couple tablespoons of mayo with about 1/2 teaspoon of lemon juice, and another 1/2 teaspoon of water. Then add in a couple cloves of minced garlic. It seems like a lot…but thats the point. It's a garlic sauce.
Chop up the chicken into bit sized pieces and toss in about a tablespoon of the shawarma spice.
ASSEMBLE! Throw the chicken and pickles onto the lettuce (along with whatever other veggie you'd like to include)
Drizzle the garlic mayo all over the salad, then do the same with the Italian dressing, and again with the hot sauce, to your liking, of course.
Throw a couple tablespoons of the hummus on the side, and enjoy!